Famous people and their clocks
Famous people and their clocks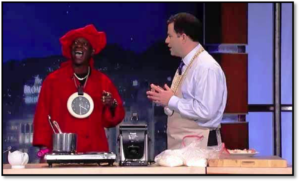 Rap and Hip-hop's most famous hype man, Flavor Flav, knows the value of time.
Flavor Flav on Jimmey Kimmel Live!
The reality star, author, and member of 2013 Rock and Roll Hall of Fame inductees Public Enemy has been wearing a dinner-plate-sized clock around his neck since 1987. The comical artist, whose birth name is William Drayton Jr., made the timepiece one of music's funniest fashion statements.
Flavor Flav clock store
William Jonathan Drayton Jr. (born March 16, 1959), better known by his stage name Flavor Flav is an American musician, rapper, actor, television personality, and comedian who rose to prominence as a member of the rap hip-hop group Public Enemy.
Drayton was born in Roosevelt, New York and grew up in nearby Freeport, two communities each within the town of Hempstead, New York. He began playing the piano at age five and is self-taught. A musical prodigy, he sang in the youth choir at his church and mastered the piano, drums, and guitar at an early age. According to Chuck D, he is proficient in 15 instruments.  He set a house on fire as a small child while playing with a lighter; by the time he dropped out of school in the 11th grade, he had been in and out of jail for robbery and burglary.  Flav graduated from culinary school in 1978, and has cooked in several restaurants. He attended Adelphi University on Long Island where he met Carlton Ridenhour, who would become known as Chuck D.  They first collaborated on Chuck D's rap hip-hop college radio show, and then they began rapping together. The two worked for Chuck D's father's delivery service.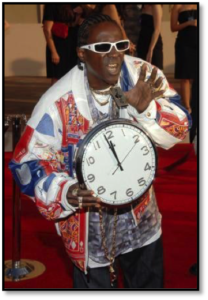 Flavor Flav on the red carpet
Flavor Flav, who gave clocks to the top candidates during the three seasons of his dating show, "Flavor of Love," explained the origins of his unusual necklace during a 1994 MTV interview: "Before I started out wearing these clocks, we started off with little stopwatches, and one day I just wanted to do something out of the ordinary," he said during an interview with the cable channel.
A rapper friend dared him to replace the stopwatch with an actual clock, and he tried it. "It was looking crazy, but I liked it," he said. Public Enemy front-man Chuck D wore a clock for a brief stint, too, but it became a staple for Flavor. He told Vanity Fair in an interview that he owns more than 100 timekeepers.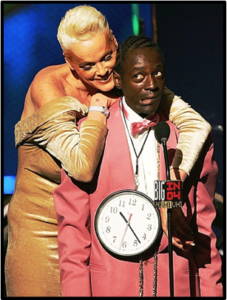 Flavor Flav with actress Brigitte Nielson
Flavor said the clock joke eventually served a more serious purpose. But there's actually a deeper meaning behind it.
"The reason why I wear this clock is because it represents time being the most important element in our life," he said. "Time can't afford to be wasted, but not only that, but God only gave us one life. Each minute we live, we got to live each second to our best value. Time brought us up in here, and time can also take us out."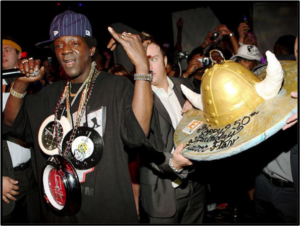 50th Birthday party for Flavor Flav
Even though Flavor often seems aloof, his accessory is a reminder that he is actually quite aware. "I always say, 'I'm clockin', I'm clockin'.' That means I'm paying attention, so you can't get fast on me because I know what time it is."