Description
DVD course for Antique Clocks
Click here to place an order by telephone.
Click here for a printable order form
This course includes many details, techniques and tips not normally explained in contemporary books.  The course was created with information obtained from rare antiquarian books that explained and described the processes, materials and finishing techniques used to create antique clocks of the previous centuries.  With this knowledge and generally accepted repair, restoration and conservation methods used by conservators and museums, this DVD course was created.
This is a beginner course.  It is better that you know very little, than to be full of all the wrong concepts you may have learned from other well meaning sources.  Using video, this course will teach you the basics of antique clock case repair and finish restoration in easy to understand terms.  The same information is used by museums and antique conservators.  The goal is to protect and minimize deterioration to keep an antique clock in its' original state and prolong its' existence.  Antiques require proper care to protect them from various potential hazards in a home.  Your home is not a museum, but you can continue to use, enjoy and safeguard your clocks by learning how to protect, repair and restore your clocks.
Antique clock finishes are at the mercy of their environment.  Damage can occur from us, our friends, pets, children, insects, sunlight, humidity, and other impurities in the air.  A finish left unattended will deteriorate over time.  Helping the existing finish to continue protecting the wood will extend the life of your antique clock.  Learn what products can be used on antique finishes, and the products to avoid.  You will learn how to protect your clock finish from further damage.  These are the same methods and materials originally used when the finishes were created.  Only period finishing materials can be used that are historically accurate to repair and restore antique clock cases. Localized damage can be corrected to continue protecting your antiques.  The average person can perform restorative work with great results.
Learn basic repairs that are common to antique clock cases using correct materials.  Find out where to buy products and supplies. We can do almost all these repairs without specialized equipment and extensive tools since none of these things existed at the time the clock case was made.  Most restoration work will use commonly available materials and tools that you may already have in your home.  Watch and learn the original methods used by clock makers with historic period materials.  Recognize any previous work, improper repairs or replacements.   Not only is this course is for the beginner, but also offers much insight for an experienced person with regard to historically accurate materials, concepts and methods are practiced by many antique conservators.
There is a right way and many wrong ways of restoring antique clock cases.       Unfortunately, we mostly see well meaning restorations that are done in the wrong way. Seeing many bad repair jobs can be very disheartening.       This means the clock is being ruined and destroyed.       Sometimes these repairs are reversible, but many times the damage is irreversible. As time goes on, there are less and less clocks remaining to be never replaced again.       Antique clocks are a part of history and a part of civilization.       More often than not, I generally find many ill advised restorations or rejuvenations that were done with the thought that it was the appropriate thing to do. The best way to achieve the desired results is to use authentic finishing materials, techniques and applications that are appropriate to the time period of the antique clock case.
Clock Case Repair & Restoration for Antique Clocks video course consists of 2 volumes for a total of 4 DVD discs playable worldwide.  Total course running time is approximately 4.5 hours of video.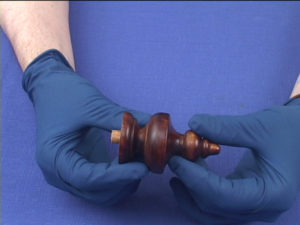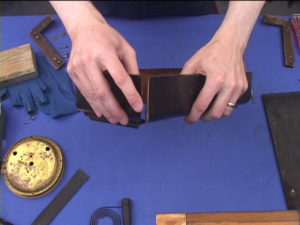 (actual frames above from DVD/video)