Description
-Intermediate lathe course.
Click here to place an order by telephone.
Click here for a printable order form
Practical applications of the jewelers lathe.
This is an approximate 4.5 hour long intermediate level course. It is divided into 2 volumes for a total of 4 DVDs with an accompanying manual. It is designed for the Clockmaker, Watchmaker or home machinist who may already own a jewelers lathe.
Generally, many people use their lathes for polishing clock parts, watch parts and tools. Most of the time, it sits on the shelf. They know their lathes can do much more, but they don't know where to start in order to learn the needed skills and techniques to get more out of their lathes. This course will teach you practical techniques and skills to learn and unlock the numerous possibilities within your jewelers lathe.
In this course, you will learn to work with different metals to develop your lathe skills for making parts, making accessories for your lathe and creating customized tools. We will also introduce and use the various lathe accessories that are available for purchase. These accessories will be used in the projects contained within this course. They can be found for sale on the internet, clock and watch conventions, tool swap meets, and antique machinist shows. The next time you see these accessories, you'll know what they are and how to use them. There will also be discussions and demonstrations of how to do the same projects without the use of the accessories.
Making customized tools and jewelers lathe accessories: Although hardware stores, hobby stores, and material houses have enormous amounts of inventory, they frequently don't have the right tool or part for the job. Most of the tools that can be bought are usually limited by size. Either they are too big, too small, or just not the right size, and not the appropriate tool for the project at hand. If you know how to make your own tools, you won't be limited by what is available on the market. In most cases, it is faster to make the right tool or accessory then it is to search it out, drive somewhere to find it or wait for something to arrive in the mail that may turn out to be incorrect.
These projects will not be overly complex by requiring a multiple number of advanced skills or expensive equipment. That would not be practical for most people or for the scope of this course.
This lathe projects course includes a 38 page manual full of further information about the lathe and other details not covered in the video portion of this course.  It follows the sequence of the video and you will want to refer to it throughout the course. All tools, materials, and equipment used in this video course are listed in the manual for easy reference to model, make, price and, where they can be purchased.
The lathe projects course was designed to teach you in the user friendly way of doing things. They may not be the only way, and there are variations, but what is taught will be very useful and stimulate thought to generate other possibilities. Maybe you can find new ways of doing things to fit your specific needs. Please feel free to be creative.
This clockmaker watchmaker jewelers lathe projects course consists of 2 volumes for a total of 4 DVD discs playable worldwide.  Total course running time is approximately 4.5 hours.
Clockmaker Watchmaker Lathe Projects video preview.
Music playing on the video preview is for preview only, not on the actual DVD video.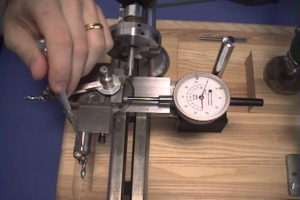 Lathe micrometer settings.
(actual frame from DVD/video)