Description
Click here to place an order by telephone.
Click here for a printable order form
This lathe course is for the beginner watchmaker, clockmaker, jeweler,  hobbyist or home machinist.  There is no prerequisite for this course.  You don't even need to own a lathe!  This course will teach you what is needed when buying a jewelers lathe.  How to recognize a good, or a bad lathe.  What is the right lathe for you.  Where to buy a jewelers lathe.  What you need in a lathe, and how each part should correctly function.  What parts and accessories you will need to get started.  You will learn how to maintain and care for your own lathe.  Complete disassembly, servicing, and reassembly of your lathe.
You will also learn about different types of gravers.  How to make your own gravers that are better than any you can buy!!  Where to buy the materials to make the best gravers.  Learn how to use your new gravers.  You will learn and develop your lathe skills with 20 lathe turning lessons using gravers you have made!!  There are 2 bonus graver hand turning lessons!
You will impress yourself and all your friends with your newly acquired knowledge and skills.  These are skills and techniques that will last you a lifetime! This is the first time this much information has been compiled for the beginner.
This lathe course includes a 38 page manual full of further information about the lathe and other details not covered in the video portion of this course.  It follows the sequence of the video and you will want to refer to it throughout the course.
All tools, materials and equipment used in this video course are listed in the manual for easy reference to model, make, price and where they can be purchased.
This jewelers lathe course consists of 2 volumes for a total of 4 DVD discs playable worldwide.  Total course running time is 4.5 hours.
-Beginner Lathe Course-
Clockmaker Watchmaker Lathe Basics.
Music playing on the video preview is for preview only, not on the actual DVD video.
Clockmaker Watchmaker Jewelers lathe set up.
(actual frame from DVD/video)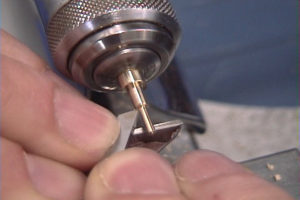 Turning a part on the jewelers lathe.
(actual frame from DVD/video)